The AAS Media Fellowship was developed in 2017 to provide training and experience for a graduate student in the astronomical sciences interested in science communication. The Fellowship is a paid, remote, quarter-time, one year (with the possibility of extension to two years) position intended to be filled by a current graduate student at a US institution.
The Fellowship provides professional development in different facets of media and science communication, and it includes the opportunity to build up a writing portfolio, learn about career opportunities and network within the science communication community, and work with other departments at AAS in accordance with the Fellow's career interests.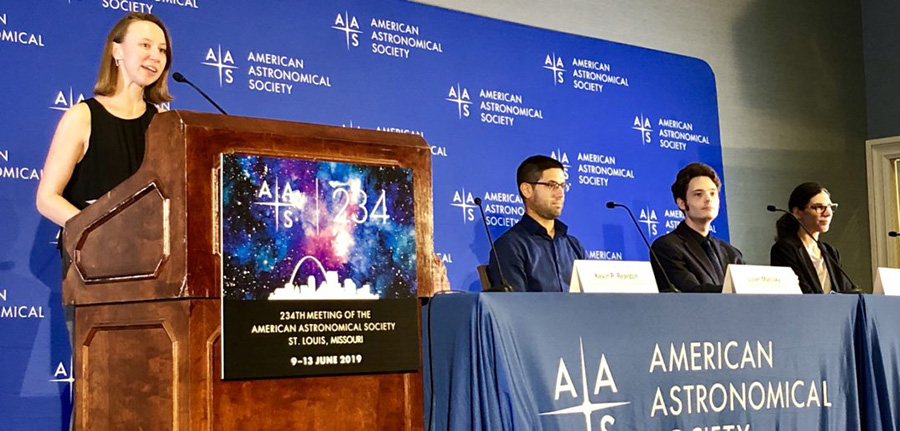 The AAS Media Fellow works in partnership with the Communications and Press teams to coordinate the various media-related activities of the AAS. Responsibilities include:
Assisting in sharing astronomy press releases via AAS Press Office channels.
Regularly writing and publishing articles for AAS Nova.
Helping to prepare other written communications such as AAS or Division press releases.
Assisting in managing AAS communications such as social media accounts, postings to the AAS website, and emails to members or authors.
Serving as backup to members of the Communications and Press teams.
At the AAS winter and summer meetings, helping the AAS Press team plan and run press conferences, helping to represent AAS Nova, and helping to organize live-blogging coverage of the meeting for Astrobites and AAS Nova.
AAS Media Fellows
Benjamin Cassese
2022–present
Graduate student at Columbia University

Haley Wahl
2021–2022
Current Position: Science Writer at MIT's Lincoln Laboratories
Tarini Konchady
2019–2021
Current Position: Associate Program Officer, Space Studies Board | National Academies of Science, Engineering, and Medicine

Kerry Hensley
2017–2019
Current Position: AAS Communications Specialist and Deputy Press Officer