10 August 2022
"Science Happens Here" — Share Your NSF-Powered Stories
This post is adapted from a web post from the National Science Foundation (NSF):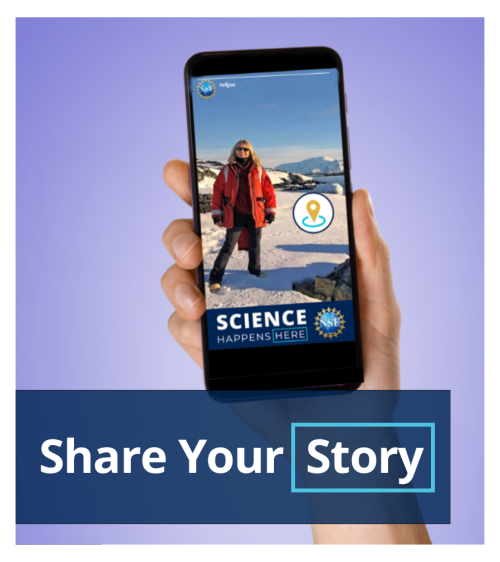 Science happens all over the country and around the world, from big research vessels and telescopes to small labs and classrooms. With the launch of our "Science Happens Here" campaign, NSF is inviting YOU — our community — to join us in sharing stories of amazing science, engineering, innovation, STEM education, cutting-edge research facilities, future workforce and more that are powered by NSF. 
Be part of the fun and share your stories by accessing NSF's toolkit for ways to participate on social media, easy-to-use templates and examples for inspiration.
We also encourage sharing your research by submitting photos and videos from any location — an NSF facility or instrument, your institution, innovation within your community, school science classes — anywhere and everywhere!
We will amplify your stories on our platforms, and together we will show the impact of partnerships across all sectors to create new knowledge, drive innovation and empower US STEM talent.
Step 1: Take a photo or short video of the research innovation or STEM fun you want to share.
Step 2: Add your photo or video to our Instagram filter, customizable graphic or by simply posting.
Step 3: Include a few sentences about the science happening in your location, adding #NSFstories, and tag NSF.
Questions? Reach out to sciencehappenshere@nsf.gov.
Visit the NSF web page to see examples of how to use the toolkit to share your stories on social media, with content and what the post would look like once it is posted.